Had an amazing appointment with Brooke! She is is very informative about the skin and lash industry! Can't wait for a microdermabrasion with her! Thanks again Brooke!!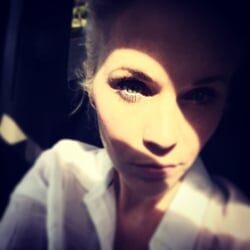 Brooke Kennedy is more than just a fresh-faced beauty queen from Sequim, WA; she's got ambition and brains and a profound passion for the health and wellbeing of people and the environment. She learned much of her adult regimens and character qualities from her mother, who taught her from a young age the importance of skin care, and from her father, who owned a restaurant and demonstrated hard work and excellent customer service.
After attending the University of Washington, where Brooke studied molecular cell biology, dance, and French, and was an active member of the Alpha Delta Pi sorority, she decided that medical school was not going to be her path, and she began to pursue other avenues while supporting herself in the food and beverage industry. Along the way, she also spent time in the electrical industry developing business and sales, and working in project management.
In 2012 Brooke graduated from the Euro Institute of Skin Care and opened Bliss by Brooke Skin Care in 2013 in a 7 ½' x 8 ½' made-over closet of a hair salon. Since then she has continuously improved her knowledge base and skill set as an aesthetician by completing courses in advanced skin analysis (with Florence Barrett-Hill of Pastiche) and acquiring an oncology esthetic certificate, which is a personal passion for Brooke.
Skin care, for Brooke, feels like a perfect combination of serving others, creating a memorable guest experience, and using the latest scientific advancements. She works hard and believes that life is too short not to love what you do!
Joie Roger was born and raised in the Queen Anne neighborhood of Seattle. Soon after graduating from Franklin High School, she moved to Sequim, where she worked as a server in the 7 Cedars Casino. That's where she met Brooke Kennedy, and the rest is history!
Joie has been interested in taking care of skin since she was very young, when her mother's and grandmother's skin and beauty regimes made her realize the importance of quality ingredients and processes. She started classes at the Euro Institute of Skin Care in September 2007 and began working at Bello's Hair Salon after graduation.
After a few moves and several jobs, fate brought Joie and Brooke back together in Issaquah, and timing was perfect for Joie to join Brooke's expanding team at Suite B.
Joie's favorite services are sugaring, brows, lash lifts, brow and lash tinting, and facials (skin revision). She enjoys seeing results and is grateful to be doing what she loves for a living.
Fun Facts:
• She began Euro Institute of Skin Care as a gift from her grandmother.
• She has been a bartender in Las Vegas.
Katie Vanderwoude
Esthetician
Katie is a Federal Way, WA resident, where she was raised with her sister. She has been interested in skin care and passionate about make-up as long as she can remember and is an ardent fan of online make-up tutorials.
Katie's areas of expertise are lash extensions, make-up, and spray tans, but her education at the Euro Institute (which she attended after high school) has prepared her well for the variety of services that Suite B offers. Before coming to Suite B, Katie developed her leadership and customer service skills working as a barista, in sales at a clothing store, and as a receptionist and manager at a hair salon. Katie brings a strong work ethic and her talents to make clients at Suite B feel and look beautiful.
Fun Facts:
• Katie and Brooke went to the Euro Institute together!
• Her favorite make-up artist is Jaclyn Hill.
• She loves Disneyland so much that she got Disney tattoos!
Naomi has always loved making people feel beautiful in soul and body. She enrolled in cosmetology school and quickly fell in love with the facial portion of her schooling. From there she was magnetically pulled towards becoming an esthetician - and in 2013 her long awaited dream came true when she graduated from The Euro Institute!
Naomi's areas of expertise include custom facials, brow shaping, lash/brow tinting, bridal/beauty makeup application, and hair removal services. Her background at resort spas has given her a great foundation to build upon at Suite B. She has worked at The Spa at Willows Lodge, Salish Lodge & Spa, Recoop, and Still Spa at The Woodmark Hotel.
Naomi grew up in Bellingham, WA and now currently lives in Issaquah with her husband and little boy.
Fun Facts:
Has always wanted to be a chef!
Paints, creates earrings, and loves to decorates
Obsessed with vintage style
Krystal began her journey in the spa industry as an Assistant Clinic Administrator with Massage Envy. While there her passion evolved towards esthetics, and she became a student at The Euro Institute in 2005. She graduated in 2007 and has continued honing her skills at Oriental Retreat & Spa, Holly James Spa, and again at Massage Envy. Her areas of expertise over twelve years include: facials, lash extensions, and she is a magician with hair removal!
The cities of Mill Creek and Renton were her childhood stomping grounds, and she currently lives in the lovely city of Bellevue. She is a free spirit, has a strong work ethic, is fun loving, nurturing, and is a hippie girl at heart.
Fun Facts:
She is a twin!
Has a german shepherd
Loves volleyball and played for six years
Stephanie Anderson
Hair Stylist
Stephanie lives in her home town of Federal Way, WA. Her passion for hair started as a teenager when she discovered that she could make people feel great about themselves by doing hair.
Stephanie will be doing cuts, color and blowouts along with any specialty hair styling (date nights, weddings, and family photos). She particularly loves doing bridal hair and being a part of the bride's big day, customizing every bridal coif to the individual client.
Since graduating from Gene Juarez Academy, Stephanie has attended considerable advanced education to stay current in her craft. She has also worked as a salon director and advanced stylist at a local family-owned hair salon chain. Her ten years of experience enables her to share tips with her clients so they can help themselves look beautiful.
Fun Facts:
• Stephanie met Brooke when she did Brooke's hair for her wedding day!
• She loves camping and traveling to Disneyland and Hawaii with her family.
• Stephanie is married and has two children, Leah and Jake.